Mobile Device Security
StrikeForce's patented anti-keylogging technology secures your sensitive personal and financial information by proactively encrypting every keystroke as you type. GuardedID® also provides advanced anti-clickjacking and anti-screen capture technology, for multiple layers of protection from cyber attacks.
PROTECT YOUR DATA
They can't hack what they can't see
Traditional keystroke data flows from your mobile keyboard through your operating system before it appears in your apps. Hidden along the way are areas of vulnerability where cyber criminals can plant keylogging spyware.
MobileTrust® protects your keystroke data by installing a secure encrypted keyboard* that creates an alternate pathway to your apps, routing your encrypted data around the areas of vulnerability. For added security, the MobileTrust® pathway is protected by a complex 256-bit encryption code.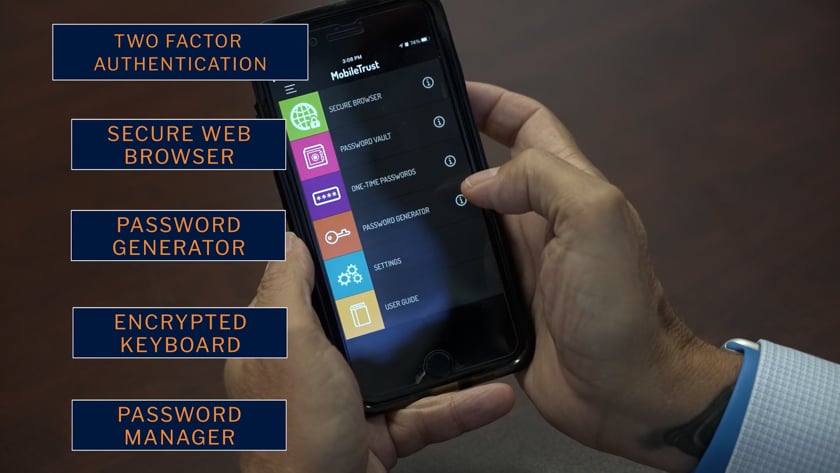 Stop cybercriminals from hacking your mobile devices and keep sensitive information from ever being exposed.
Encrypts keystrokes and prevents them from being logged into your mobile device's data storage; no need to keep resetting your cache.
*Works on all apps that accept 3rd-Party keyboard
Encrypts keystrokes between your on-screen keyboard and the browser.
Encrypted password manager
Safely stores an unlimited number of passwords with associated websites.
Creates strong passwords based on your preferences and safely stores them in your password vault for future use.
Works with all OATH-compliant authentication systems to enable secure login to internal or external sites directly from within the application without a physical token.
SMB & Enterprise
Secure your mobile applications with our MobileTrust Software Development Kit (SDK)
What've you got to lose… without MobileTrust®?
Online Banking
Each time you log into online banking, hackers can steal your usernames, passwords and account details.
Credit Card Info
As you shop online, even a secure browser can't protect your credit card information from keystroke loggers.
Personal Security
Whenever you type your Social Security number or other personally identifying information (PII), you're exposed to identity theft.
Personal Health Info
Your personal health information is extremely valuable to hackers, who can sell it to the highest bidder.
Email & Word Processing
Cyber criminals with keylogging software can steal everything you type in emails and documents.
Slide
"GuardedID & MobileTrust are invaluable resources for anyone who banks, shops & emails online"
Johnny May
Author & Identity Theft Prevention Expert
Protection for mobile devices
Works on iOS & Android Mobile Devices and Tablets
Are you an SMB or Enterprise that needs to protect more endpoints?
Contact us for a tailored solution that scales to your endpoint needs and supports enterprise deployment.
Software Development Kit (SDK) available
Our Mission
Making the world a safer place for people to compute.