Secure Video Conferencing
Video conferencing and collaboration have become the new "normal" allowing businesses and consumers to connect from anywhere in the world. Current industry options were not designed with protection in mind. Secure your meetings with the industry's most secure video conferencing system to hit the market.
PROTECT YOUR PRIVACY & CONNECT WITH
Anyone. Anywhere. Anytime.
Ensure all of your communications with colleagues and consumers are protected from the privacy compromising vulnerabilities of other platforms. StrikeForce's new SafeVchat is the leading secure video conferencing platform. With technologies such as our patented out-of-band authentication and keystroke encryption. No other competitor in the industry can match SafeVchat's signature 5-Level security control approach.
Secure
Collaboration
Whitepaper
Current video conferencing platforms are not designed to protect sensitive & corporate data
Discover the importance of applying security controls to data classification levels
Each level of classification is mapped to recognized control frameworks (PCI, HIPAA, NIST, CISA, GDPR) as well as the organization's policies, standards, and guidelines for protection of sensitive information
This whitepaper is intended for IT, cybersecurity, and risk management professionals seeking alternatives to general purpose video conferencing platforms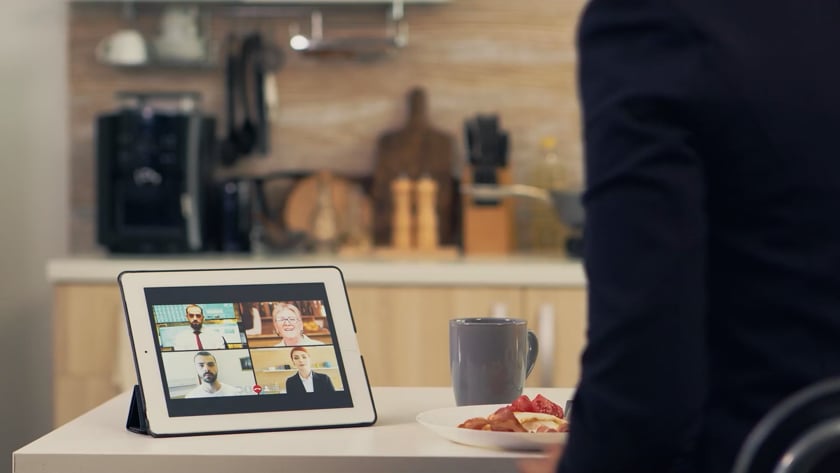 Watch how...
SafeVchat secures your privacy & sensitive data while collaborating on a video conference.

Lead With Security
Stop The Vulnerabilities
The current video conferencing and collaboration solutions are inherently vulnerable to a myriad of attack vectors.
Lack of secure authentication channels
In-band authentication is easily bypassed
Unencrypted data entry fields
Audio and video streams can be eavesdropped
5- Level Meeting Security
Meeting Password
Meeting Authentication – Every participant is authenticated by Secure 2FA
Meeting Authorization – Only participants listed for the meeting are granted access
Meeting Endpoint Secured from Malware Spying
Encrypted Audio & Video
Secure 2FA via Out-of-Band Authentication
Multiple Authorization Schemes – Phone, Hard Token, Mobile App (Push Notification, Biometric)
User Self Administration Portal Multi-level Admin Portal – User Management and Audit Reports
Users Provisioned via Portal, File Import, or Active Directory
Keystroke Protection – Protects Everything Typed onto a Keyboard
Lock-Down Video Camera
Lock-Down Microphone
Lock-Down Audio (Speakers)
Clipboard Protection – Protects Copy & Paste Feature
No Desktop Client – Entirely Web Based Conferencing
Mobile Application for Apple & Android
Audio & Video Conferencing
Desktop Sharing Raise Hand Functionality
Instant Chat
Mute Participants
Schedule Meetings
Add Participants
Add Meeting Agenda
Add Meeting Minutes, Notes, and Related Links
Audit Reports
A Truly Secure Platform
Our Competitive Advantage
Video Conference Solutions for Small Businesses: Video calling for businesses is essential nowadays for employee collaboration, however, it can often leave businesses vulnerable to data breach attacks and hackers. StrikeForce's SafeVchat offers a 5-level meeting security control approach designed to protect valuable information that other video conferencing platforms for businesses can't.
With feature solutions like keystroke protection, anti-screen capture, and push & biometric authentication, you can be sure your small business is secure. Let's dive into why we consider SafeVchat the best video conferencing for small businesses.
| | | Zoom | Webex | GoToMeeting | Join.me | MS Team | Blue Jeans | Hangouts | Facetime | Skype | Zoho |
| --- | --- | --- | --- | --- | --- | --- | --- | --- | --- | --- | --- |
| Meeting Password | | | | | | | | | | | |
| Passcode OTP | | | | | | | | | | | |
| Encrypted Audio & Video | | | | | | | | | | | |
| Meeting Authorization | | | | | | | | | | | |
| Out-of-Band Phone Authentication | | | | | | | | | | | |
| Push & Biometric Authentication | | | | | | | | | | | |
| Keystroke Protection | | | | | | | | | | | |
| Camera Protection | | | | | | | | | | | |
| Microphone Protection | | | | | | | | | | | |
| Audio Out Protection | | | | | | | | | | | |
| Clipboard Protection | | | | | | | | | | | |
| Anti-Screen Capture | | | | | | | | | | | |
The SafeVchat API enables businesses of all sizes the ability to easily integrate security & video conferencing into any type of business application i.e. CRM's, Marketing Platforms, or even Home-Grown Customer Support applications. Most general-purpose video conferencing platform API's i.e. Zoom, Teams & others were not designed to provide organizations and users with the necessary security features to protect confidential business, legal, and personal data where there are significant risks associated with information disclosure to unauthorized parties. These general-purpose platforms treat all meetings the same, from employee virtual happy hours to in-depth discussions of mergers and acquisition targets.
Stealing confidential data is at an all-time high and hackers are making billions doing so, that's why industry regulators are now starting to enforce regulatory compliances which requires shared data to be protected via strong cyber security controls i.e. strong authentication and encryption. For over 20 years, StrikeForce has been developing authentication and encryption technologies, and the SaveVchat platform API enables to you layer the appropriate level of security controls into your video conferencing experience to keep your data safe and meet regulatory compliance.
When reputation, revenue, and customer trust is at stake, it's critical that an organization can identify and respond to security incidents and events. Whether a breach is small or large, organizations need to have an incident response plan in place to mitigate the risks of being a victim of the latest cyber-attack
While incident response strategies and plans layout what defines a breach and the roles and responsibilities of the security team, communications with employees, customers, and authorities should be done via an out-out-band communication channel. And since there was a breach, you must assume that passwords and computers were also compromised, therefore, access control for remote access and video conferencing should only be granted when users utilize a dual-channel authentication system. Additionally, each computer on the network needs an anti-malware solution that locks down the following: keyboard, clipboard, camera, microphone, audio-out speakers and an anti-screen scraping capability. For over 20 years, StrikeForce has been developing authentication and anti-malware solutions, and now our new secure video conferencing platform enables you to layer the appropriate level of incident response security controls to protect your confidential and sensitive data.
Slide
"Knowing that SafeVchat is protecting my privacy and data is important. It will ensure our communications with our investors, colleagues and consumers are protected from the vulnerabilities of other platforms."
Dave Chapman, Fund Manager
Future Tundra Capital Partners, LLC
Slide
"Hackers are relentless about stealing personal or corporate information, that's why I chose to protect them with SafeVchat."
Slide
"Privacy and security are essential to my clients in the technology industry. I use SafeVchat because I know that a data breach could cost my clients millions of dollars in stolen data and cost me my clients. SafeVchat protects me from hackers and gives me peace of mind when dealing with sensitive information."
Ensure Your Video Conferences Are Protected
Better Security - Better Management - Flexible Platform
30-Day Money Back Guarantee on all purchases.
Our Mission
Making the world a safer place for people to compute.